Maknae on top.
JUNG KOOK is
into sandwich now.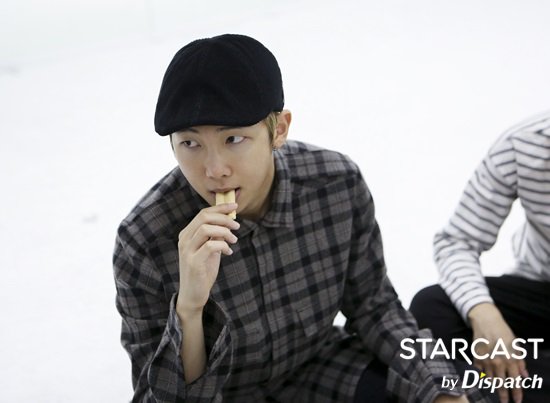 Is it different for hyung (older brother)?
RAP MONSTER is,
supplying sugar now.
Earnest,
the 'feast' has been started.
Is it BTS feast now?
NoNo!
Forget about the eating show.
BTS is working for their album.
Shall we turn the time back?
"Seriousness" (JIMIN and RAP MONSTER)
"Calmness" (JIN and J-HOPE)
"Concentration" (SUGA)
'BTS' is back. They are flying with 2nd studio album 'WINGS' in these days, right? They are attracting gaze with best ever song and dance.
Therefore it arouse our curiosity more. 'Blood Sweat & Tears' album making story consists of blood, sweat and tears. It will be revealed from 'STARCAST' exclusively.
Starting with CG'V' first ☞
They are 'Maknaes' JIMIN and JUNG KOOK. This is the corridor of working studio. Playing with the phone while lying down. Staring into empty space while sitting down. Are they just playing like this?
No way. JIMIN was writing the lyrics with his phone. JUNG KOOK is also arranging the lyrics in his head. As they gather opinions, synergy increases.
RAP MONSTER looks like he is having a sweet imagination. He was enjoying daydream alone on the comfortable chair. It seems like the working studio is heaven to him.
When an idea flashes in his mind, he turns into working hard mode.
This time V really looks like he is excited. He is dancing in the working studio. J-HOPE cannot conceal laughter as well. Is this 'Playful Boys' that I only heard about but never seen?
The oldest hyung JIN also joined. Who ever told you to beware of three women? As three men gather, laughter never stops. It seemed like exciting talking time has started.
No way. They are serious than ever. They were sharing their own work. They repeatedly check over and over again then laughed with pleasure.
"So serious"
And this man. We can guess who he is as we look at his black hair. His name is sweet, but his work for album is 'not' sweet. SUGA's surprising allure? There is no such thing. He is serious all the time.
"The music is my first love"
This is recording studio this time. Since this is the studio album after 2 years, they must be nervous. However, practice is the answer instead of tension, isn't it? JIN, J-HOPE and V had battle in front of the maknae JUNG KOOK.
↓ ↓Well, shall we follow V's gaze?↓↓
"Serious, JIN"
JIN participated as a lyricist at track number 9, 'Awake' for the first time. It is a song that a lonely boy wishing for self-reliance.
Starting with clear voice reminiscent of boy, he burst explosive emotions at the refrain part. It's like we're seeing a boy who passed a hurdle of growth?
"I could finish it with help from producer and members. Please listen to my song at the end. I wanted to release the feeling of ending." (JIN)
JUNG KOOK is professional in the recording studio. He feels the rhythm by snapping the fingers, until he gets satisfactory voice and repeats recording infinitely.
All the members included solo track in the 2nd studio album. JUNG KOOK is in charge of 3rd track 'Begin'. It was more meaningful since this is the first solo song.
He included JUNG KOOK's feelings when he first met members such as 'There was nothing for me when I was fifteen' and 'I came up with feelings because of you (hyung)'. His delicate and emotional voice is impressive.
"As I produce solo song, I guess it was an opportunity to look back and think about myself. It was a meaningful opportunity to talk about my mind." (JUNG KOOK)
He told an episode happened during recording as well. There was a reason that he expected a big success.
"I got an 'OK' sign after recording and when I tried to listen to it, there was nothing there. I could hear my voice from the part I did not record though. This is a symptom of big success, right?" (JUNG KOOK)
JIMIN has put much efforts on writing lyrics. He participated in writing the lyrics and composition for the 4th track 'LIE'. Writing on a paper and then erase, write and erase again and again….
It was said two heads are better than one. When JIMIN was wondering, J-Hope helped him. He read the lyrics JIMIN wrote and cheered him up. Also shared better opinions.
"RAP MONSTER joined"
"Finished writing the lyrics"
"I felt really nervous. I couldn't even sleep well although I don't know whether it's because I'm nervous or thrilled. I was really curious about the reaction and I feel thankful since it seems many people waited for us" (JIMIN)
And here, SUGA who has been serious since the beginning. I can feel seriousness(?) even from his back. He attracted attention by releasing mixtape in August. He worked hard for BTS album as well.
His solo song 'First Love' is a hip hop song which has outstanding piano playing and string orchestra sound. He expressed his story when he first started music and his passion for the music by piano.
"When we first debuted, it seems we didn't get much attention. But as we started to sing our story fully, we started win people's hearts. I wish to keep my passion" (SUGA)
This is 'V' of free soul. He was sitting down so comfortably. Shoes have gone far away already. He looks like he is playing, but he is not. He is practicing singing harder than anyone else.
V revealed his appeal through 5th track of new album, 'Stigma'. He emphasized his uniqueness through neo soul genre song. How does he feel?
"I was really happy since much of my opinions were put in the song including the lyrics. I expressed hard time I had in the past through the lyrics. This is the most sophisticated song in the album" (V)
Look here, hyungs have joined V due to his passionate singing. J-HOPE and JIN sang out together. JUNG KOOK assessed hyungs' singing. No wonder the maknae on top.
"J-HOPE's voice is the best" (JIN)
After serious recording, seven members gathered all together. Are they finishing with eating show not surprisingly?
"Concentrating on the snack?"
Forget the 'maknae on top'. JUNG KOOK is setting up the video. They monitored stage performance video. The snacks and drinks are just helping. They shed 'Blood Sweat & Tears' like this.
"Sinking into it"
♪One little
♪Two little
♬Three little BTS
Five little (feat. Finding Jin)
Six little
Seven little (feat. All members)
Finally, I heard BTS's goal and the direction they should follow from the leader RAP MONSTER. RAP MONSTER proved his ability as a producer at 'The Most Beautiful Moment in Life Young Forever' for the first time. This time he showed his ability again through 7th track 'Reflection'.
"Only the first album was single. Since then, we have 9 or 10 songs for every album. There is a team that attracts listeners not only by their title song but also other songs included in the album as well. We wish to be that team. I wish to hear 'BTS to listen with trust'"
"We will be happy if our songs could give pleasure to listeners simply or have good influence to values of listeners. I wish that this album could be 'WINGS' for BTS. I believe we have grown up musically as well as in other aspects"
☞ Finally there are some bonus photos. Let's finish with something handsome as we started with handsome V.
"Handsome V did everything"
"J-HOPE's side figure"
"A man with handsome shoulders" (JIMIN)
"Handsome while he closed his eyes" (JUNG KOOK)
"Handsome JIN"
News = Na Ji Yeon (Dispatch)
Photo = Big Hit Entertainment
Credits :
Eng. Trans : Starcast