BTS Dishes About Their US Tour, Songwriting Process, & Onstage Style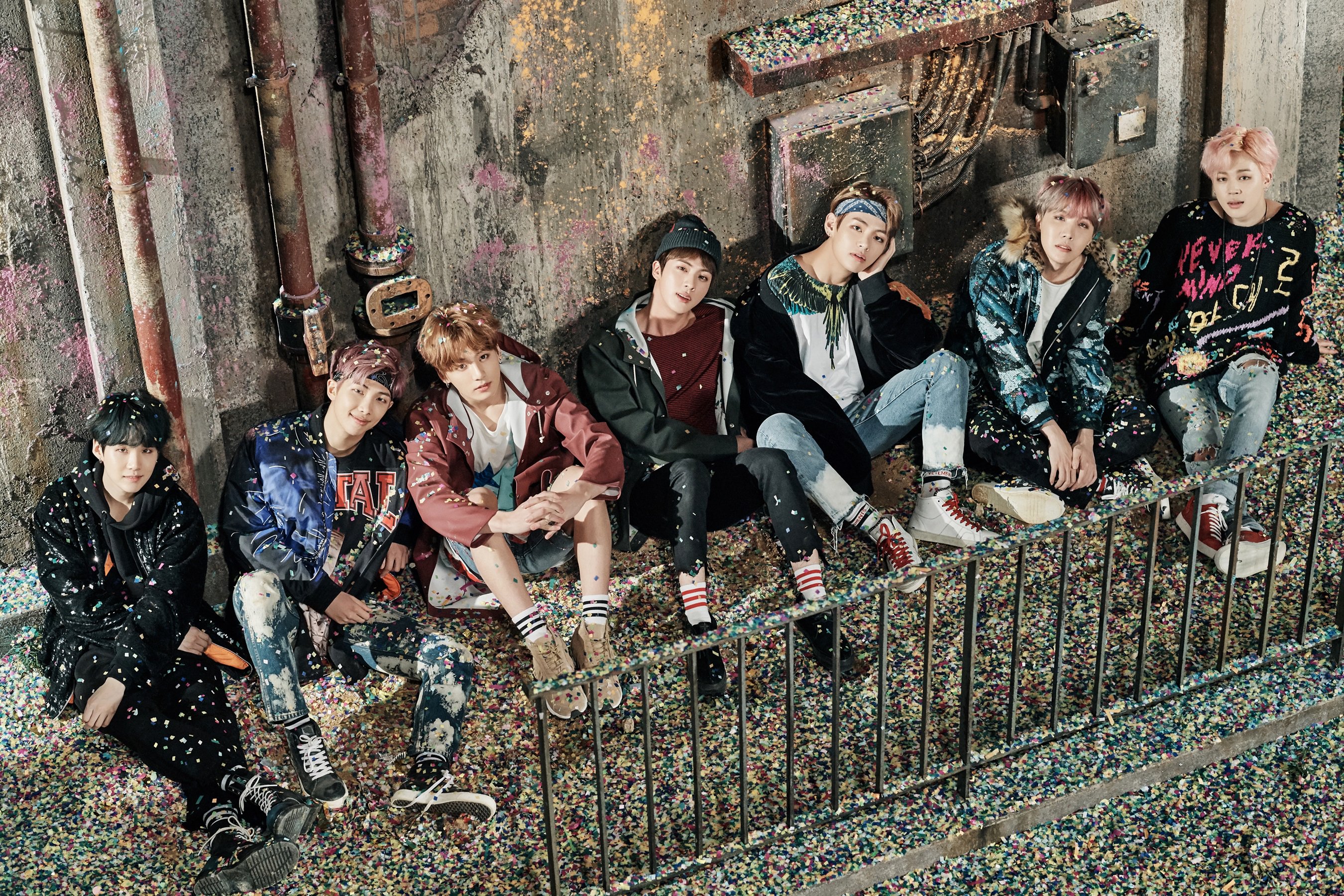 K-Pop fans worldwide are obsessed with chart-topping musical sensation BTS – made up by Rap Monster, Jin, SUGA, V, J-Hope, Jimin, and Jungkook – and not without great cause. The guys' songs transcend languages, and resonate with listeners all over the world. TWIST caught up with the band during their latest tour of the United States to ask all about their experiences traveling the world, their musical influences, and what it's like getting recognized by fans. Check out our exclusive Q&A below.
TWIST: What are you most excited about for your return to the US?
BTS: The size of the tour got much bigger than last time we were in the US back in 2015. It's almost 10-fold this time. 5 arena shows in 3 cities sold out in less than 5 minutes! We're amazed by the fact fans in the USA are passionate and supportive and we're super excited to come back to meet them all.
TWIST: What is the most exciting part of touring around the world, and what has been the most challenging so far?
BTS: The most exciting part of touring around the world is that you get the unique opportunity to meet different people from various background. Regardless of their differences, they sing BTS songs in unison and cheer for us, and it is very special experience for all of the band. On the other hand, the most challenging part has been the life on the road, being far away from our family and friends for weeks.
TWIST: Which of your songs are you most looking forward to performing on this part of the tour?
Rap Monster: "Spring Day." I wrote the main melody for the lead single for the first time and also wrote lyrics.
SUGA: "Spring Day." I wrote main lyrics based on my personal experience with old friends. It is about my sad memories with him and it makes me sentimental whenever I listen to the song.
Jungkook: "Not Today." It has the coolest beat of all songs in the album and I personally like the choreography for the song.
J Hope: "FIRE." It has always been my favorite and the song has all the essence of BTS can show to the audience on stage.
TWIST: What's the best piece of advice you've gotten in your career?
Rap Monster: "If you're tied up with not gaining approval from others, you'll never be able to move forward."
TWIST: How would you say you and your sound have evolved over the years since first forming the group?
BTS: BTS sound has evolved since our debut in 2013 but has rooted its music in western pop music and hip-hop. We try to adapt all the hottest trends in pop music scene and that's why fans around the world like it despite the cultural differences. All members listen to different genres of music all the time, from EDM, hip-hop, R&B to hip-house… and we believe BTS is kind of creating a new category of music genre beyond K-Pop.
TWIST: Do you remember the first song you ever wrote, what it was about, and what inspired you to write it?
Rap Monster: I don't remember the name of the song, but there was an online community of amateur rappers who gathered together. I downloaded a beat from another amateur beat maker and I wrote a song based off of that. The song didn't really make much sense, I just wrote it using every hard word I possibly knew. I actually found the song 2 years ago on my computer and listened to it thinking "What is this?" It was a mess.
TWIST: Have you ever written a song in a strange or unusual place? Or been inspired by something totally random?
Rap Monster: So many, I think I wrote a song while I was at the Grand Canyon in 2009. I had a trip to Vegas/Grand Canyon and I think I wrote a song there because I was shocked by the scenery. I definitely don't remember what it was about though.
TWIST: Who are some artists that you would love to collaborate with?
BTS: There are so many artists we would love to collaborate with, such as Drake, J Cole, Justin Bieber… The list goes on and on.
TWIST: Which other artists/songs are on your personal playlists?
BTS: Drake "Fake Love", The 1975, Kehlani, Lorde.
TWIST: How would you describe your personal fashion senses?
BTS: It's mix of gothic and Japanese street wear. My recent favorite brands are WTAPS, Neighborhood and Yoji Yamamoto.
TWIST: And how does your personal style differ from the costumes you wear onstage?
BTS: Onstage clothing for BTS is custom-made to maximize our performance while being matched with the concept of each song.
TWIST: What is it like when fans recognize you on the street/ask for photos? Is it crazy? Surreal? Overwhelming?
Rap Monster: It's a really nice experience to have somebody who knows me, but sometimes I like to be alone and hang around the city. I think it depends on the situation. There are some situations that I want to not be noticed by others, but people easily notice me. I've been told that I'm too unique (my walk and my clothes) and I'm easy to recognize, and I think that's really nice. If I'm an artist or an idol and nobody knows me that would be sad.
TWIST: Can you share a fun fact about one of your other band members that you don't think even the most dedicated fans will know?
Rap Monster: Many people think that SUGA is like the Grandfather of the group, but he acts more like a little kid. Jimin is the opposite, he looks like a baby but inside he's mature and like a Grandfather.
Credits :