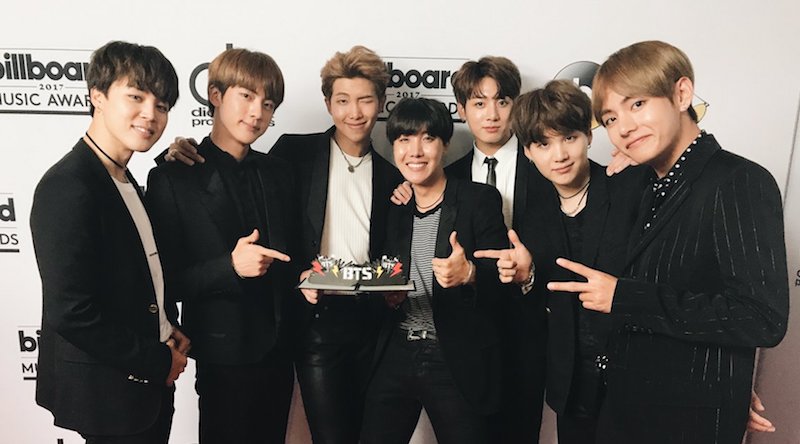 After BTS took home an award at this year's Billboard Music Awards, plenty of celebrities and members of their team have posted on social media to congratulate the group and celebrate their history-making win!
BTS attended the Billboard Music Awards on May 21 in Las Vegas, where they became the first K-pop group to win a trophy at the annual ceremony when they received the fan-voted award for Top Social Artist. The group was nominated along with artists including Justin Bieber (who previously won six years in a row), Selena Gomez, Ariana Grande, and Shawn Mendes.
Shortly after BTS's win was broadcast on television, BTOB's Peniel took to Twitter to express his amazement over the event and congratulate the group.
U-KISS's former member Kevin also posted on Twitter to congratulate BTS and celebrate the big moment in K-pop history.
Eric Nam excitedly tweeted, "Congrats congrats congrats @BTS_twt!!!!!!!! Yessss!! #bts #army awesome!".
Former U-KISS member Alexander posted on Twitter to express how touched he was by the beautiful and historic moment achieved by BTS and their fans.
In addition, rapper Tiger JK retweeted Billboard's official tweet about BTS's win to celebrate.
The account of music video production team Lumpens (which has created many of the group's MVs) tweeted, "I truly congratulate you. Thanks to you, I've become a director for a Billboard Music Award-winning artist!" The account later tweeted, "The kids' 'most beautiful moment in life' keeps continuing even in reality," referencing BTS's hit series of releases entitled "The Most Beautiful Moment in Life."
Tiger JK retweeted Lumpens's tweet to congratulate the team's director and added a thumbs-up for BTS.
 Big Hit Entertainment choreographer Son Sung Deuk (who attended the ceremony) and producer Pdogg also retweeted the announcements by the Billboard Music Awards, with Pdogg writing as his caption, "I'm crying."
Choreographer Keone Madrid, who has choreographed many of BTS's hits including "Fire," "Dope," "Not Today," and more, also tweeted to celebrate their win!
 In addition, American duo the Chainsmokers tweeted to congratulate the guys, after having met them earlier that day.
 Singer Halsey posted a video of herself meeting BTS at the award ceremony to her Instagram, and wrote in the caption, "Congrats on the win guys! This is a massive moment for kpop! Love!!!!!!!".
Congratulations once again, BTS!
Credits :
Via Soompi