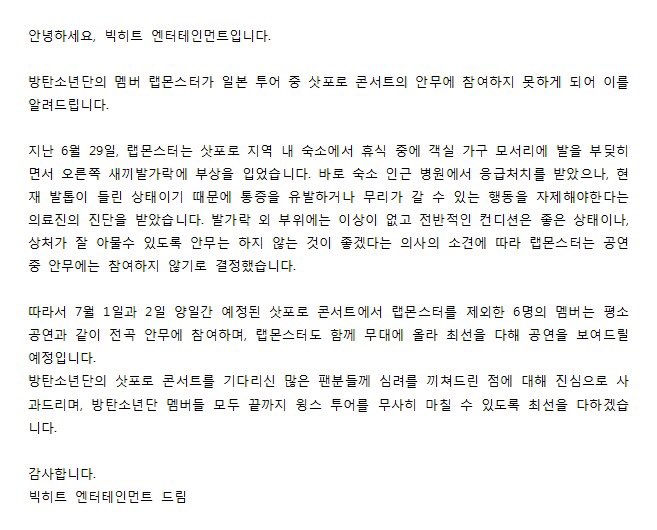 Trans : 
Hello, this is Big Hit Entertainment.
We are notifying you about the situation as to why BTS' member Rap Monster will not be able to participate in choreography [stages] at the Sapporo concerts.
On June 29th, while resting at the hotel in Sapporo, he bumped into the corner of hotel furniture and injured his right pinky toe. He was immediately received first aid at the neighboring hospital, but currently his toenail is lifted so the medical team has advised him to refrain from any movements that would cause pain or difficulties. Other than his toe, although he has not sustained any other injuries and his overall condition is good, in order for his injury to heal properly, following the doctor's opinion, it has been decided that Rap Monster will not be participating in the choreography [stages] at the concert.
Therefore, for both days, July 1st and 2nd,of the Sapporo concerts, all other six members excluding Rap Monster will participate in the concert as normal with all of the choreography [stages], and Rap Monster plans do to his best to join them on stage.
We sincerely apologize for worrying the many fans who were looking forward to BTS' Sapporo concerts, and we will do our best so that all of the BTS members will be able to finish off THE WINGS TOUR without any issues.
Thank you.
From Big Hit Entertainment
Credits :
Trans Kylie @ allforbts