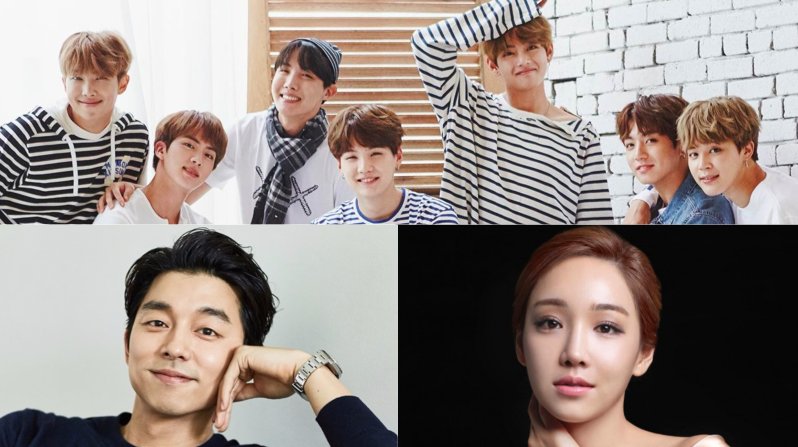 BTS, Gong Yoo, Lee Yoo Ri, Na Young Suk, and more have received recognition in this year's Brand of the Year Awards.
On August 3, the Korean Consumer Forum announced the winners of their 15th annual Brand of the Year Awards, which celebrate the "best brand that has been brightening the year" in a variety of different industries.
Award winners for this year were selected based on voting on the organization's homepage from July 12 to 25, with over 380,000 consumers taking part. A representative from the organization stated that there were so many people voting for the awards that their server temporarily went down.
Winners of awards include:
Artist of the Year: BTS
Actor of the Year: Gong Yoo
Actress of the Year: Lee Yoo Ri
Variety Star of the Year: Lee Sang Min
PD of the Year: Na Young Suk
Athlete of the Year: Volleyball player Kim Yeon Koung
Beauty Creator of the Year: Pony
Drama Writer of the Year: Kim Eun Hee
Mentor of the Year: Rhyu Si Min
Chef of the Year: Choi Hyun Suk
Announcer-Entertainer of the Year: Kim Sung Joo
Early Childhood Education Expert of the Year: Oh Eun Yeong
Columnist of the Year: Hwang Kyo Ik
Learning Methods Expert of the Year: Kang Sung Tae
Solo Contents Creator of the Year: Korean Englishman
Winners in more categories including economics, culture, and society were also chosen, and will be announced at the ceremony for the 2017 Brand of the Year Awards on September 7.
Congratulations to all the winners!