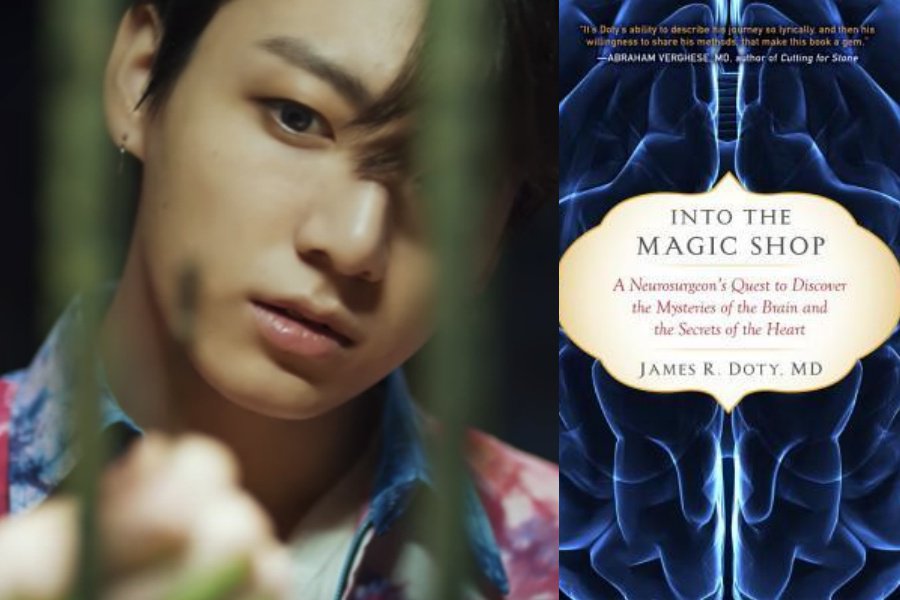 BTS's continuing relationship with literature has turned out another best seller in Korea!
On June 4, it was revealed that "Into the Magic Shop: A Neurosurgeon's Quest to Discover the Mysteries of the Brain and the Secrets of the Heart" by James R. Doty, the book that became the motif for "Magic Shop," the seventh track on BTS's latest album "Love Yourself: Tear," has risen to the top of Korean book store Aladin's weekly best selling list. It is currently No. 2 on Aladin's monthly best seller list.
"Into the Magic Shop" is a memoir by James R. Doty, about the lessons he learned from a woman named Ruth, whom he met in a magic shop, one of the lessons — or tricks — being to open his heart.
BTS's "Magic Shop" is a song for fans produced by Jungkook, in which BTS asks fans to open their hearts when they're in pain, and tells fans about their own experiences, letting them know that they're not alone.
The group first introduced "Magic Shop" through their "Fake Love" teaser, which begins with the line, "'Magic Shop' is a psychodramatic technique that exchanges fear for a positive attitude." In the teaser, the BTS members enter a "shop" where they trade items for different ones. The teaser was identified as being in reference to Dr. Doty's novel, after which the book's sales rose to 510 times its usual amount.
Shortly following the release of BTS's album, Dr. Doty personally posted a thank you to BTS on his Twitter for using his book as inspiration:
Literature has been a strong influence for BTS in the past, as well. In 2016, the concept for BTS's album "WINGS" was inspired by Hermann Hesse's "Demian," and in 2017, "Spring Day" from BTS's "You Never Walk Alone" album was inspired by Ursula K. Le Guin's short story "The Ones Who Walk Away From Omelas." RM also stated last year that the hidden track "Sea" from "Love Yourself: Her" was inspired by Haruki Murakami's "1Q84."