BTS will be taking part in a special hosted by James Corden!
On March 25 local time, E! News reported that James Corden will be hosting an episode called "Homefest: James Corden's Late Late Show Special." With people around the globe staying at home during the coronavirus (COVID-19) pandemic, James Corden will be hosting the special from his garage as he talks with celebrities from their own homes!
The guests being interviewed in the episode include BTS, David Blaine, Will Ferrell, John Legend, and Billie Eilish.
In addition, artists will be performing from all around the world. BTS will perform from South Korea, Andrea Bocelli will perform from Italy, Dua Lipa from London, Billie Eilish with Finneas from Los Angeles, and John Legend also from Los Angeles.
It's reported that James Corden and his guests will encourage viewers to prevent the spread of COVID-19 by following CDC and governmental guidelines. On top of that, the show will share details on how viewers can make donations to Feed the Children and The CDC Foundation.
BTS and James Corden have developed a friendship during the group's appearances on his show in the past, including a legendary BTS "Carpool Karaoke" segment.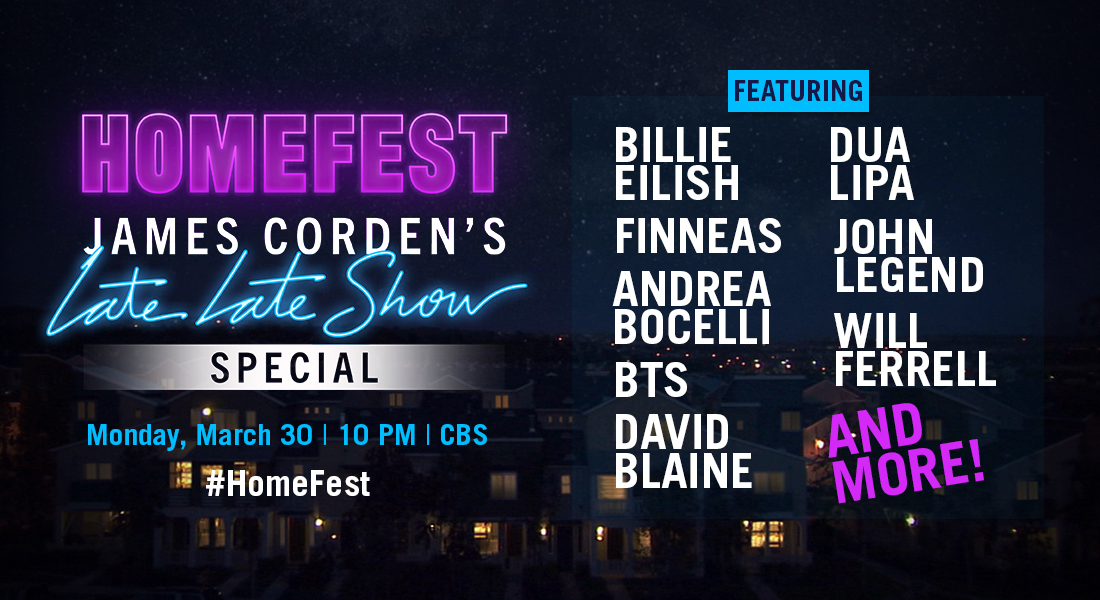 "Homefest: James Corden's Late Late Show Special" hits the air on CBS on March 30 at 10 p.m. local time.